To every horseperson who truly wants the best for their horses…
LEARN TO GAIN YOUR HORSE'S TRUST AND CONFIDENCE, WITHOUT CONFRONTATION OR FORCE
Many long-held beliefs about horse training are wrong.
It's wrong to tie any horse up and let him pull and fight.
It's wrong to saddle any young horse and let him go to buck.
It's wrong to confront any horse with tarps and flags and bags.
It's wrong to use violence of any kind to frighten your horse.

ARE TRADITIONAL BELIEFS STOPPING YOU FROM GAINING TRUST AND COOPERATION FROM YOUR HORSE?
My approach to horse training is based on building confidence and teaching every horse, every step of the way.
A SIMPLE, KIND, STEP-BY-STEP APPROACH THAT WORKS
Over the past fifty years, the thousands of horses I've trained have taught me:
There are no problem horses, only problem trainers
It's never the horse's fault, it's always my fault
It's okay to be nice to your horse
The horse always lets me know what works and what doesn't
You train horses by building their confidence, not by frightening them
I've taken my lifetime of experience, my beliefs and my understanding of horse psychology and written them in a simple way that everyone can learn and benefit from.
THE ULTIMATE GUIDE TO TRAINING YOUR HORSE, USING COOPERATION AND TRUST
This is the book that friends and fellow horse owners have been pleading with me to write for the past 30 years.
That's right, this is a book. It's shipped to you in a package.
You can hold it in your hands, turn the pages, and smell that new book smell.
It will always be around for you when you need to check something. Whether you leave it on your coffee table to refer to it regularly, keep it on your nightstand to read it in bed at night, or even take it out into the yard when you work with your horse, this is your horse training Bible.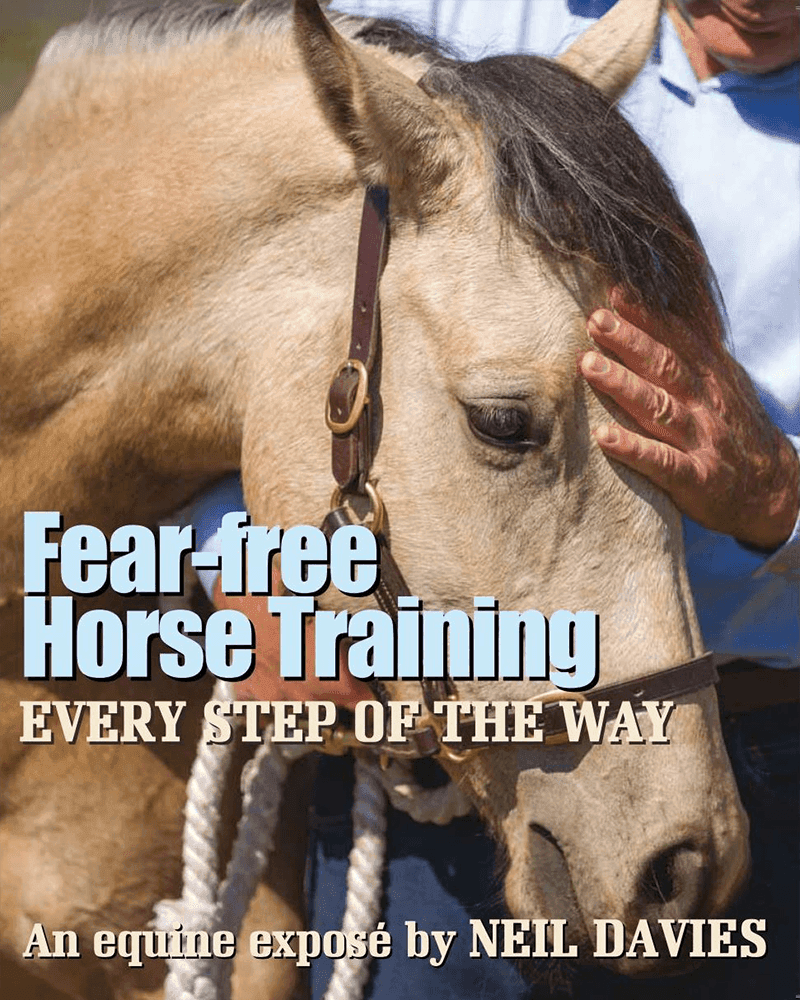 IN THIS LARGE FORMAT HARDCOVER 224 PAGE BOOK,
WITH 320 COLOUR PHOTOS, YOU'LL SEE:
All the stages from a foal's first human contact, through the entire process of handling, riding and training
Step-by-step instructions on leg handling, trailer loading, riding problems and leading problems
The signs that show your horse is giving, listening and trying for you
Simple, 1-2-3 instruction for everything you've dreamed of being able to do with your horse
And much, much more …
HUNDREDS OF HAPPY CUSTOMERS SHARE THEIR EXPERIENCES AFTER READING FEAR-FREE HORSE TRAINING
I love this book! I am reading, re-reading, reviewing and memorising. Neil cuts through all the fluff and the bull and puts it exactly where it needs to be – succinct, straightforward and easy to understand. But being easy to understand doesn't mean lightweight.This book contains deep and proven truths that will revolutionise your understanding. (And no, I'm not being paid by Fear Free Horse Training!). I've studied all the stuff that's out there, and Neil's approach is like a breath of fresh air.It makes many other approaches look like the Emperor with no clothes.
– Estelle O'Brien
You have turned everything I've been taught over the last 10 years upside down. Fantastic, brilliant soft but solid methods without this 'leader' bull. I feel guilty for how I've handled horses in the past and I now know it was me that caused the problems I was having. Thank you Neil Davies
Kirsty Belinda Jones
"I really don't want to get to the end of this book! I can't put it down. Fantastic, thank you. Will be a re-read again and again."
Carla Haydon Carey Oxfordshire United Kingdom
ORDER YOUR COPY TODAY AND RECEIVE
Neil's Best-Selling Hardcover book with 224 glossy pages and 320 colour photos.
PLUS: You'll be emailed a digital PDF copy of Neil's book. Download it and start reading immediately!
Both for just
AUD$79.90
FREE SHIPPING ANYWHERE IN THE WORLD
LEARN A WAY THAT'S BETTER FOR YOUR HORSE, EASIER FOR YOU, AND LESS STRESSFUL FOR BOTH OF YOU​​
ORDER YOUR FEAR-FREE HORSE TRAINING BOOK TODAY
Just click on the button below and you'll go through to the order page.

Next, enter your address and your credit card details using our secure payment system.
​​You'll receive an email confirming your order and shipping details. You can download your PDF copy and your hardcover book will be in the mail.

Buy the hardcover book plus a PDF copy for AUD$79.90.
or
Buy a digital only PDF copy for AUD$49.90.
Download the PDF to your computer or device and read it immediately.
BOOK + PDF
Buy the hardcover book plus a PDF copy.
AUD$79.90
FREE SHIPPING ANYWHERE!
DIGITAL PDF ONLY
Buy the digital PDF copy. This will be sent to you by email.
AUD$49.90
Thank you for your interest in my philosophy. I truly believe that many horses deserve a better deal and, together, I know we can make a difference.
All the best from Neil Davies
On behalf of horses everywhere.
P.S. If you'd like to ask me about my teaching material or my philosophy of training, email me at: